Does
Sunshine Pygoras Houdini
Houdini was one of our first Pygora goats, brought to the farm in 2015 from Sunshine Pygoras in Bellefontaine, Ohio. She was named Houdini as she exhibited quite the skills of an expert escape artist. She is quite fond of scratches and is definitely the queen of the barn. She had her first kids (sire = Norris) in 2017 - triplet bucklings (though unfortunately one did not make it). The other two were beautiful and extremely friendly boys who were sold to Busy B Urban Homestead.
In 2019 we were shocked when Houdini then had quadruplets (sired by Jet)! One of the quadruplets was grafted onto another doe. Needless to say she will not be bred in 2020 as she needs a bit of recovery time.
Chip was brought to the farm in 2016 from Greystone Homestead in Marysville, Ohio. She has a beautiful, dark, chocolatey grey fiber and a very lovey personality. Her microns tested the finest of the does in 2018 at 19.6 microns.
In 2019 , Chip had a beautiful set of twins (sired by Jet): one doeling and one buckling. With just a little initial encouragement she ended up being a great first time mom.
Screech was brought to the farm with Chocolate Chip, from Greystone Homestead. She was named Screech due to her very vocal nature though she has quieted down a bit in her adult years. She is a fairly small caramel pygora, very sweet, with a beautiful lighter grey fiber. Her microns tested at 23.2 in 2018.
In 2019, she had her first kid, a single doeling (sired by Jet). She was an amazing mom - and her kid was up and nursing in 15 minutes all on her own. If only they were all that easy!
Screech, who was a great first time mom and has great body condition, is now being bred again to Jet and should be expecting another kid in Mid March 2020.
Jeena came to us in 2017 from Gun Plains Pygoras in Michigan. She has beautiful white type A fiber - the only type A we currently have. Her fiber had an average micron of 23.1 in 2018.
She was also bred to Jet in 2019 and had a doeling. Unfortunately her doeling did not make it so one of Houdini's quadruplets was grafted onto Jeena. With some heavy handed encouragement for the first week and a half she turned out to be a good mom.
Enchanted Acres Poke-o-Moonshine
Poke came to the farm in June of 2019 along with Marcy, Snowy, and Panther. She is a beautiful and friendly caramel doe originally bred at Enchanted Acres in Johnsville, NY. She has wonderful type B fiber.
Poke is currently in with our Buck, Jet, and should be expecting kids around mid March 2020!
Enchanted Acres Mount Marcy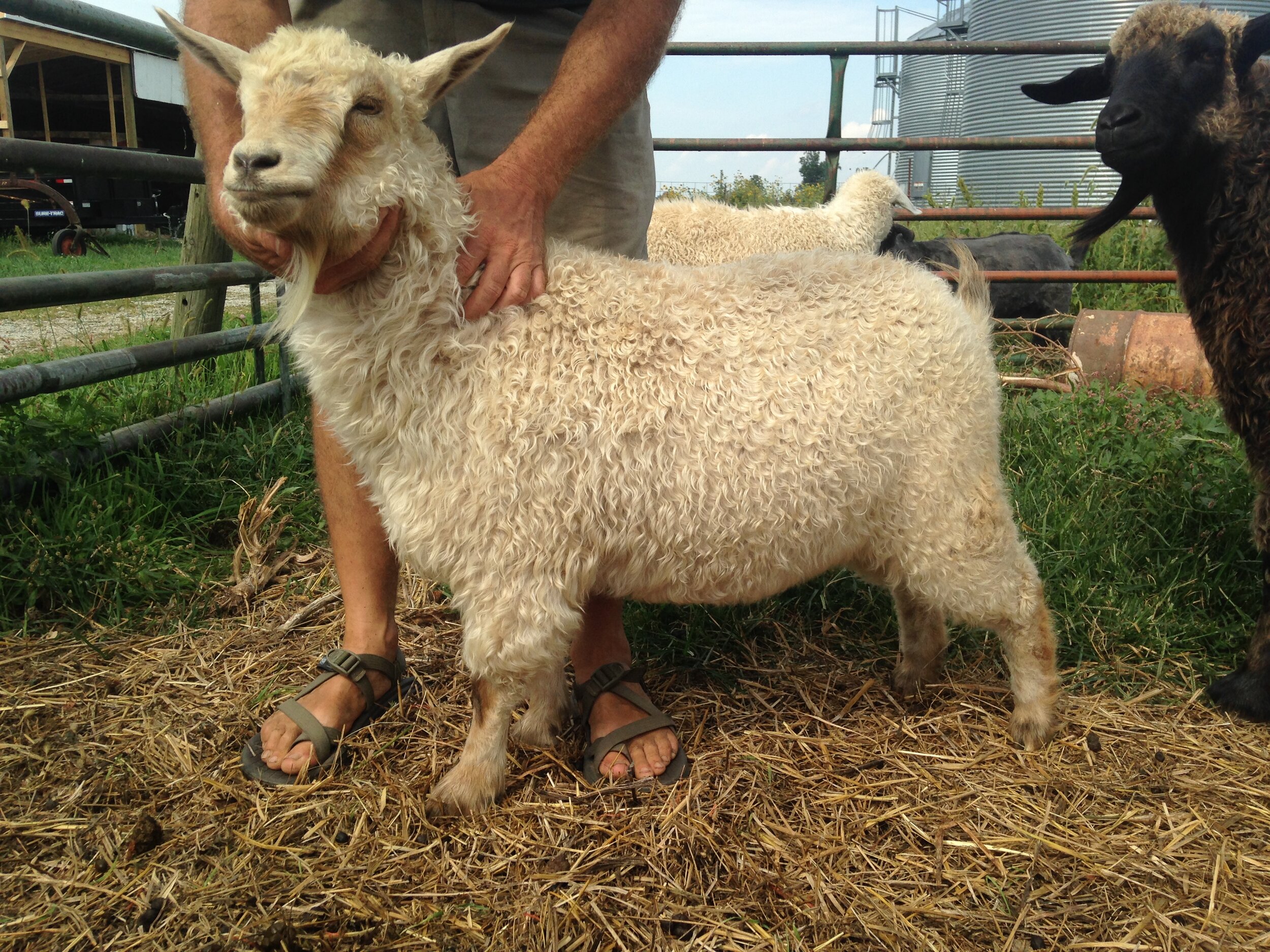 Marcy was brought to the farm in June, 2019 with Poke, Panther, and Snowy. She is originally from Enchanted Acres in NY and is a lovely brown Agouti with a caramel fleece.
Marcy, who was born in 2016 is currently getting bred to Jet and will hopefully have some beautiful kids by mid March 2020.
Snowy is a white Pygora with white type B fiber. She arrived on the farm in June of 2019 along with Poke, Marcy, and Panther.
Snowy, who was born in 2016, is now with our buck for the first time and will be hopefully having her first kids in March of 2020.
Bucks
Gun Plain Pygoras Jet
Jet is a friendly young buckling joining the farm from Gun Plains Pygoras in June of 2017. His has beautiful grey fiber and is looking (and smelling) more and more bucky as the years go on. He had a bit of an adventure in 2018, scaling two different pasture fences in order to get in with the girls, becoming the proud father of 8 kids!
Jet is currently in the pasture with four of the does as we hope to have a similar outcome in 2020. Snowy, Screech, Poke, and Marcy will all, hopefully, be having his kids in March. Below is his before and after shearing pics for fall 2019.
Norris was a beautiful light carmel buck coming from Painted Shadow Farm in Kentucky. He was curious and inquisitive though didn't like to be loved as much as all the others. He was bred to Houdini in the Fall of 2016 resulting in triplet bucklings. Norris passed away on 22-April-2017 of unknown causes.
Logan came to us with Houdini, from Sunshine Pygoras in Ohio. He is a lovey, feisty, beautiful wether who seems to prove to me the saying that wethers have the best fiber.
Panther, also born in 2016, came to the farm from NY in 2019 with his friends Snowy, Marcy, and Poke. He's a lanky, loveable pushover who likes scratches and loves grain of any kind.
Valentine - born on 2/14/2019 is a single kid born to Screech and Jet. She's a strong, healthy kid that every goat owner dreams about - up and nursing on her own within 15 minutes of being born. She is very friendly and has a unique (for us) brown undercoat. Can't wait to see what her fiber comes in as.
Houdini's only doeling - born 2/21/2019 - This little girl had to share the womb with 3 bucklings so you know she has spunk. And yes, you heard correctly, Houdini and Jet had quadruplets! She is a beautiful light gray agouti doeling.
Chip's Doeling - born 3/1/2019 - This little black girl is a twin to first time parents Chocolate Chip and Jet. She was born on 3/1/2019 and was a bit bigger and stronger than her brother from the start. She is the one with the slightly curlier hair.
Jeena's Doeling - Jeena, as a first time mom, easily had a single little white doeling. Unfortunately, unbeknownced to us, she didn't allow the doeling to nurse the first night (I take full responsibility for this terrible outcome). We tried to give her strength by helping her feed the next day but we were too late. Jeena is now raising one of Houdini's quadruplets.
Houdini's Buckling #1- Born 2/21/2019 - This boy is built like a tank. He has nice stout legs with good confirmation, and is the only of the boys I would really want to leave as a buckling. He was strong from the start. He is one of Houdini and Jet's quadruplets.
Houdini's Buckling #2 - Born 2/21/2019 - This is a beautiful all black boy (the only one of Houdini and Jet's quadruplets that isn't a Gray Agouti).
Houdini's Buckling #3 - Born 2/21/2019 - This is the third boy of Houdini and Jets quadruplets. He grew a little slower the first couple days because we grafted him onto our other doe Jeena. He's growing fast now, and will be a friendly wether from all that initial handling.
Chip's Buckling - born 3/1/2019 - This little boy, like his twin sister, is solid black. He did need a little boost from some selenium gel as his legs were a little weak for the first couple days but he is looking great and bouncy as ever now.
Sold Kids - 2017
Fred and George Weasley (June 2017)
Fred and George were the kids of Houdini and Norris. They were triplet bucklings (though unfortunately one buckling did not make it). They were super friendly with beautiful white/light gray fiber. They were sold to Busy B Urban Homestead in June 2017.